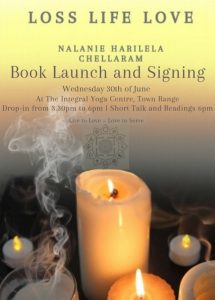 Nalanie's book offers hope and advice on how to move on with life following the loss of a loved one. The underlying messages are that, even though the pain may never fully leave you, finding a purpose in life can help the healing process, and that it is possible to fall in love again without guilt.
Loss, Life, Love explains the process of bereavement and describes the many tools that helped her – and many others – through the most difficult and painful of life's experiences.
Book launch and signing will be held at the Integral Yoga Centre, 33 Town Range on Wednesday, 30th June 2021, from 3.30pm to 6pm. This will be followed by several readings from the book and a talk by Nalanie Harilela Chellaram.