International Day of Peace is celebrated all over the world on September 21st each year.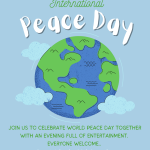 IYC Gibraltar celebrated International Day of Peace 2023 on Wednesday 20th September 2023 at Ince's Hall, Gibraltar.
The event commenced with a short reception followed by speeches on world peace by local dignitaries, presentations on yoga and peace, a story, dance and song.
A donation was made on behalf of IYC Gibraltar to the local Imam for the Moroccan Earthquake Appeal.
IYC Gibraltar thanks all the participants and those who attended the event.