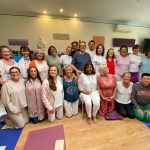 The Axiom Therapy Course run by Nalanie Chellaram  during from 18th-22nd October 2023 was attended by over 15 people.
Run for the second time in 2023, this 5-day course was a powerful insight into dealing with the human mind skilfully and with great love; using the principles of compassion and truth.
The course offered methods to use the Yogic philosophy and teachings for counselling and healing; with constant attention to individual need.
Key learnings from the Yoga Sutras of Sri Patanjali, the Bhagavad Gita, the Upanishads and the Holy Bible formed the basis of
 the course.  Theoretical study was re-enforced with practical aspects of Yoga asana, Pranayama and Creative Visualization, all in an environment of compassion and safety.
 This course was indeed a valuable asset to therapeutic and counselling work.
 Comments from some participants:
"The five days Axiom therapy course were filled with warmth and positivity, both recapping and learning new approaches and really opening our hearts and minds together in a group of like-minded people. So grateful to have been able to be a part of this. ❤️"
"
For me personally the Axiom course was a true eye opener to life itself.   I experienced so many emotions and felt each scenario in my own skin.  Nowadays we are so engrossed in our own self we forget to open our eyes and see what is happening around us.  Loved this course."