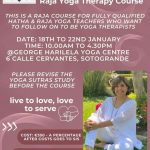 The first part of the Axiom Raja Yoga Therapy Course  was run from 18.01.2023 to 22.01.2023 by Nalanie Chellaram at George Harilela Yoga Centre in Sotogrande, Spain.
This course was open to fully qualified Hatha and Raja Yoga teachers with an interest in Yoga Therapy.
The content of the course based on the Yoga Sutras of Patanjali was richly enhanced by Nalanie sharing her deep wisdom & knowledge . In the safe & loving space created, participants were able to share experiences and to start to put into practice the idea of Axiom Therapy which is to allow ourselves to see truthfully within and adjust and heal ourselves.